Company Information
Toward a "Wellness Company"

that contributes to people's physical and mental well-being
"Wellness" means being healthy in both body and mind.
With Japan's increasingly aging population, staying healthy not only in body but also in mind (in other words, wellness)
will no doubt become more important than ever.
As a leading wellness company, we at PIP CO., LTD., pursue our mission of benefiting society, while constantly refining our expertise
in the three core areas of healthcare products, baby and maternity products,
and products for a comfortable lifestyle (healthcare, baby, and comfort: HBC).
Having upheld "health" as our keyword since our foundation, we are committed to product development
from the customer perspective and to providing products, services and information even more swiftly and reliably,
so that customers can enjoy a healthy, comfortable lifestyle at all times.
PIP will continue to contribute to society in terms of both health and culture,
based on our management philosophy of being a "Wellness Company."
Merchandising
Based on our philosophy of viewing everything from the customer's viewpoint, we are engaged in merchandising focusing on healthcare, baby products, and products for a comfortable lifestyle (HBC). We help revitalize stores by procuring products in line with consumers' wants and needs, which vary day to day, by developing sales techniques and displaying products in ways that are noticeable, easy to choose, and simple for customers to understand. We also propose new categories that draw out latent demand even customers are unaware of, thus creating new markets. Twice a year, in January and July, the Pip Group holds a trade-fair-type exhibition and a proposals exhibition as the culmination of this customer-perspective merchandising.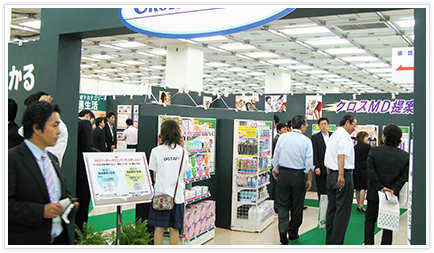 Company Profile
Company Name
PIP CO., LTD.
Foundation
1908 (incorporated in December 18, 1946)
Paid-in Capital
¥270 Million
Annual Sales
¥203.5 Billion <Actual result for fiscal 2021>
Employees
625
Details of Business
Wholesale of medical hygiene products, health foods, baby products, healthcare products, general merchandise for home use, and pharmaceutical products; manufacture and sale of proprietary products, including ELEKIBAN®, Slimwalk®, and PIP NAIFUKUEKI (Oral Liquid Medicine)
Head Office Location
1-36, Nouninbashi 2-chome, Chuo-ku, Osaka 540-0011 Japan
Chief Executive Director
Hisashi Fujimoto (Chairman)
Yoshiharu Matsuura (President)
Main Customers
Drugstores, baby shops, General merchandising stores, supermarkets, home centers, pharmacies
Logistics